INTONATION
Symposium in Deidesheim, Germany.
Participants: Freiderike Zeit, Germany. Svein Narum, Norway.
Simon Horn, Germany. Myriam Jiménez, Spain. Juan Orti, Spain.
Simon Zsolt József, Hungary. Inger Södergren, Sweden.
April 8-17, 2016
The 3rd International Ceramic Symposium
was organized at The National Center of Ceramic Art, Sidi Kacem Jelizi in Tunis, Tunisia. The Director Mohamed Hachicha had invited 28 ceramic artist from 20 countries to participate in workshops and exhibition September 3-13, 2013.
The Egyptian 12th Ceramic Symposium
Dr. Khaled Sirag, Helwan University in Cairo and Dr. Haytham Abdelhafeez, Ministry of Culture invited ceramic artists from six European countries and artists from Egypt for the symposium held in The Faculty of Fine Arts, El-Minya University, March 14 - 25. Works from the symposium was shown at the EL Gazira Art Center in Cairo during September 2012.
clay without borders
Project leader for a cultural exchange between
ceramic artists from Sweden/Norway and members
of CPAN - Craft Potters Association of Nigeria.
An exhibition and a workshop were held during two
weeks at the National Museum, Onikan in Lagos,
Nigeria, November 2007.
sounding barrels
Initiator for Sounding barrels, a project about udu drums which was realized in co-operation with a percussionist, Peter Bruun, 2000 - 2004. The project resulted in the exhibitions The udu-orchestra, showed in an abandoned rock shelter in Linköping and at blås&knåda Gallery in Stockholm. The udu drums were also exhibit at Quintessence Gallery, Lagos, Nigeria
residencies
2018ANAI Foundation, Lagos, Nigeria
2006FuLe International Ceramic Art Museums (FLICAM)
Fuping, China
2004Maraba Pottery, Kaduna, Nigeria
lectures and workshops
2010guest teacher - Lunnevad folk high school
lecture - Linköping University - Arts, Crafts and Design
2009Skapande skola - Värgårdsskolan, Kisa
guest teacher - Liljeholmen folk high school
2008Skapande skola - Värgårdsskolan, Kisa
2007lecture - Oskarshamn folk high school
2005lecture - Linköping University, Arts Craft and Design
lecture - Lunnevad folk high school
Må Bra culture project in Kinda
2004lectures at The Goethe Institute in Lagos,
Maraba Pottery in Kaduna, Abuja Art Council
and at Yaba College of Technology,
Lagos, Nigeria
2002guest teacher - DuD Culture school, Katrineholm
Konst i Skola / Art in school
Östergötlands länskonstkonsulenter
2001lecture - Linköping University, Arts Craft and Design
Artefacts in cultural meetings FoKUs seminar,
Linköping University
1999Konst i Skola / Art in school
Östergötlands länskonstkonsulenter
1996<guest teacher and instructor at ceramic evening classes, Liljeholmen folk high school
<lectures at Art Societies
other professional commissions
Östergötlands länskonstkonsulenter, design commission for annual art prize 2004 - 2006
blås&knåda, member 2000 - 2010 and member of the committee 2003 - 2005
Qvinnovation, project Kvinnliga Former / Female Forms 2004
Linköping University, member of the committee for artistic research, FoKUs 2000 - 2008
Östgöta Hemslöjd, member of the board 1999 - 2003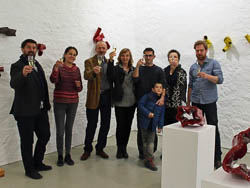 INTONATION 2016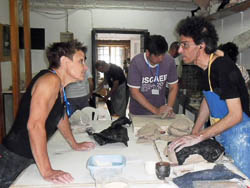 International Ceramic Symposium,
Tunisia 2013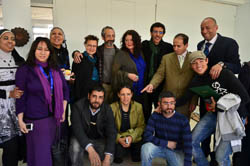 The Egyptian Ceramic Symposium, 2012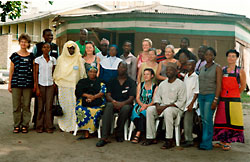 Clay Without Borders, 2007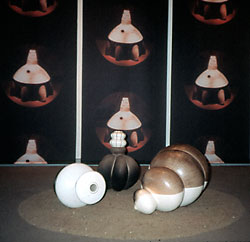 Quintessence Gallery,
Lagos, Nigeria 2004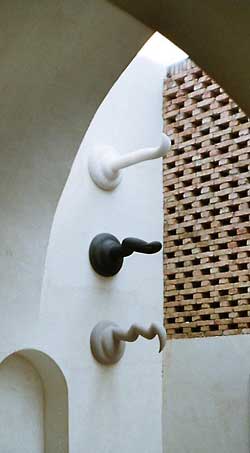 FuLe International Art Museums, China